2014 - My new book, "Paths to Artistic Imaging in Photoshop" has arrived and is available to purchase. It is 250 pages of creative processing goodness! I cover such topics as modern colour correction, use of the LAB colour space, Digital Infrared, creative use of High Dynamic Range processing, Focus Stacking, creative texture application, Night, Low Light and Time exposures and a whole chapter of tips and ideas to give your work a creative boost.
But don't take my work for it; here's what my friend and namesake, Russell Brown, Principal Creative Director at Adobe Systems has to say:
"There is only one person on the planet who can write a better Photoshop book than I can and that's Russell Brown. To be more specific, that is Russell J Brown from Australia. This book might be the best Photoshop book that I never wrote. It is more than the average stuff about quick keys and new features. This book is about creative ideas! These days that is a refreshing break from the norm. This clearly demonstrates the power of the Russell Brown name to deliver quality anywhere in the world!"
And if you missed the news on my homepage, my friend and beta-reader of the book, Marco Olivotto has posted an interview with me on his blog.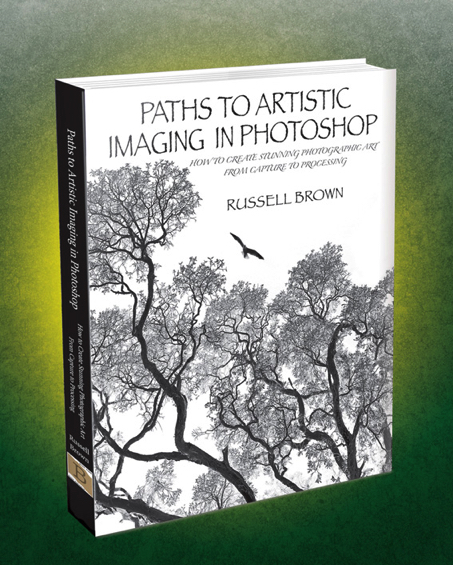 Download the sample file of the book's Introduction here.
For delivery within Australia ONLY, please click here:
**Update 2019 - In Australia, you can currently get the book either by using the above button or from the bookshops listed below if they still have stock. I have now reduced the price from the regular $59.95 to just $35 with flat rate $15 shipping anywhere in Australia, to move the last of the books. I only have a few boxes left and when they're gone, they're gone, so now is the time to snap one up!
For those outside Australia, it may still be available from Half Price Books in the US. See their site for info. New copies are no longer available from Amazon, however used copies may still show up there from time to time, so it doesn't hurt to check. Unfortunately, due to the prohibitive cost of postage, I can no longer send outside Australia.
Bookshops around Australia that have previously stocked copies are listed below. If you're in the vicinity, they may still have a copy, so call in and check.
Geelong, Victoria - Camera House, 102 Moorabool St (03)5229 2224
Eltham, Victoria - Eltham Bookshop, 970 Main Rd (03)9439 8700
Camberwell, Victoria - Dymocks, "The Well" - Shop 114, 793 Burke Rd (03)9882 0032
Redcliffe, Queensland - Seaside Artists Gallery, top floor, Cominos Arcade, 133 Redcliffe Pde, Redcliffe
Strathpine, Queensland - Pine Rivers Art Gallery 199 Gympie Rd (Additionally kept in Moreton Bay Region libraries)
North Lakes, Queensland - Dymocks. Shop 1142, Westfield North Lakes (07) 3491 7888
Eumundi, Queensland - Australian Writers Indie Bookshop, in the CWA Hall, Eumundi markets
Hillcrest, Queensland - The Really Good Bookshop, Shop 4, 1-3 Central Court (07)3802 8746
Torrens Park, SA - Mostly Books, Mitcham Square, 119 Belair Rd (08)8373 5190
Albany, WA - Paperbark Merchants, 240 York St. (08)9842 8044
East Victoria Park, WA - Crow Books, 1/900 Albany Hwy (08)9472 9737
Denmark, WA - Tea House Books, 1/21 South Coast Hwy (08)9848 1801
Perth, WA - Boffins Bookshop, Lwr Gnd Floor, 88 William St (Btw Hay St & Murray St Malls) (08)9321 5755
"I just want to change the colour of some pixels. How hard can it be?"—
Russell J. Brown